SP INTERVIEWS / ARTICLES
Smashing Pumpkins takes Old Fillmore Into the Here and Now
By Joel Selvin - San Fransisco Chronicle - 4/29/94
(Sent to us by Dave Asselin)
Given Smashing Pumpkins penchant for cheesy psychedelic touches to decorate their end-of-the-world sonics, the redhot rockers seemed the perfect act to star at the gala reopening Wednesday of the Fillmore Auditorium, even if the group wan't the promoter's first choice.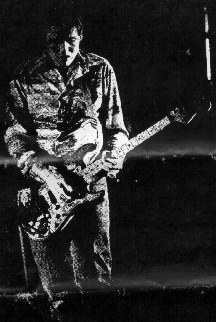 Everybody from Neil Young to Bruce Springsteen considered offers before leaving Bill Graham Presents Scrambling for a headliner with two weeks to go.
But the Pumpkins, double platinum with their major label debut, "Siamese Dream", served notice that the renovated Fillmore would enter the contemporary scene with feet planted firmly in the present.
SURPRISE CAMEOS
The Pumpkins hooked up with masterful guitarists Ry Cooder and David Lindley ("We'd like to take part in more eclectic bills" said the Pumpkins bandleader Billy Corgan) during an evening studded with surprise appearances by Linda Perry of 4 Non Blondes and guitar virtuoso Joe Satriani.
"The ghost of Jimi Hendrix must be here tonight," said Corgan. "I can't keep my guitar in tune. Jimi couldn't either."
Taking the stage after a screening of the famed chase scene through the hills of San Francisco from "BULLET" the quartet unleashed a trademark sound based on alternating slash-and-burn passages with more wistful lyricism, and laced with dense, scrupulous guitar tones.
HOURLONG RAMPAGE
The Pumpkins rampaged through a more than hourlong set that included "Cherubic Rock" the group's hit single and video, along with other pieces recognizable to the enthusiastic capacity crowd.
Corgan fueled his guitar playing with enough retrograde fuzz tone to suit Steppenwolf or Iron Butterfly, while some of the more delicately etched instrumental sections recalled the lacy inventions of the Grateful Dead. But the ultimate effect of the musical melange was pure Pumpkins - a loud, shimmering wall of sound that used sudden shifts in tempo and volume as a substitute for drama.
Guitarists Cooder and Lindley needed no such obvious devices to get across their musical message.
While Lindley flitted from one stringed instrument to another - mandolin, dobro, fiddle - Cooder plucked away at a regulation steelstring guitar, bringing his supple mastery of the instrument to every phrase.
Performing mostly vintage blues and gospel numbers, the duo was augmented by Cooder's three man chorus, with a percussionist beating out rhythm. Cooder and Lindley stitched lines together with beguiling ease.
The Pumpkins crowd listened politely to this rare concoction, as they did for Satriani, who offered a beady, restrained performance, tasteful and technically accomplished.
LURE OF GHOSTS
But it was the Pumpkins, and their crowd was out to get down at the Fillmore. The Pumpkins long ago outgrew 1200 seat halls, making the Fillmore appearance a special treat for fans, but undoubtedly that won't be the last time an immensely popular band is lured to the stage where Otis, Jimi and Janis walked.
Welcome back, Fillmore Auditorium.