1984 - 1985 - 1987 - 1988 - 1989 - 1990
1989
The bad did a 11-song set at WZRD radio in Chicago in which they promoted their upcoming LP and a demo tape that was untitled. Most of their demo tapes were recorded in 1988.
The Pumpkins played their first Cabaret Metro show on March 17th. The concert was called "Light Into Dark". It featured five Chicago bands to celebrate the release of a "Light Into Dark" compilation on the local label Halo Records. Each band played for thirty minutes. In addition, it was Billy's 22nd birthday.
Exact dates are unknown, but a self-released tape was sold at early shows after April.
An LP of the "Light Into Dark" compilation on Halo Records was released on April 12. "Sun" and "My Dahlia" appear on the vinyl. This is the first vinyl appearance of the band and the only official release of these two songs.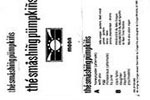 Another cassette was issued; this one was entitled Moon and was sold in the fall. Pressing was limited and it was sold at early shows with white paper j-card and hand-written labels once again. The tape was released after September.
The Pumpkins began touring out of Chicago by September.
Drummer Jimmy Chamberlain later stated that in these cassette releases, "you can hear a little bit of apprehension on our tapes from the early days" in terms of drums.
Home - The Early Years - Gish Era - Siamese Dream Era
Mellon Collie and the Infinite Sadness Era - Adore Era


Created and maintained by Sachin Bansal
Copyright © 1998-99 The Smashing Pumpkins Chronology