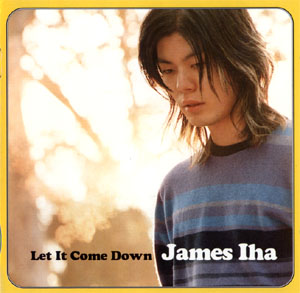 Yes, you've heard right! James has released his debut album "Let it Come Down" on February 10, 1998. It's a treat, that's for sure. If you haven't got it yet, what are you waiting for? Head up to your nearest CD store and pick it up now!
Here you will find all the information about "Let it Come Down" that you ever wanted to know.. and even somethings you didn't. Well, what are we waiting for?
Let It Come Down's first single, "Be Strong Now", will be released February 23
Tracklist

1. Be Strong Now 2'50
2. Sound Of Love 3'56
3. Beauty 3'4
4. See the Sun 3'59
5. Country Girl 3'01
6. Jealousy 3'26
7. Lover, Lover 3'21
8. Silver String 3'53
9. Winter 4'25
10. One and Two 3'31
So, you want to sing-a-long? Well, here are the lyrics.
**The Scans from Let It Come Down is right here**
Let It Come Down Cover
Back Cover
Collage of pictures
2nd page of collage

INTERVIEWS AND REVIEWS ABOUT LET IT COME DOWN
INTERVIEWS
Select Magazine - May 1998


Twist Magazine - April 1998
Transcript of James Iha Onlie AOL chat
Guitar World - March 1998


Asian American Magazine - March 1998
The San Francisco Chronicle - February 14, 1997
Rockline Interview - February 9, 1997
The Daily Hearld - February 6, 1998
Kenosha News - February 1998
Addicted to Noise - February 1998
Rolling Stones Interview - February 1998
Jam! Showbiz - January 13, 1998
Addicted to Noise - January 12, 1998
REVIEWS
Valley Advocat - April 9, 1998


Herald Sun - March 5, 1998
The Oregonian - March 1998
Humo - March 1998
Mills Magazine - March 1998
Unknown - March 1998
Vox - March 1998
De Morgen - March 1998
In Site - March 1998
Kerrang! - February 7, 1998
Access - February 1998
VG - February 1998
New Zealand Herald - February 1998
Various small reviews
Rock Mountain News - February 13, 1998
Knoxville News Sentinal - February 13, 1998
Hartford Courant - February 12, 1998
The New York Post - February 1998
The Sun Herald - February 1998
Guitar Magazine - February 1998
Entertainment Weekly - February 1998
MTV - February 1998
Rolling Stone - February 1998
SPIN Magazine - 1998
Dave Navarro's review
***MORE TO COME***